by
 JACK HADFIELD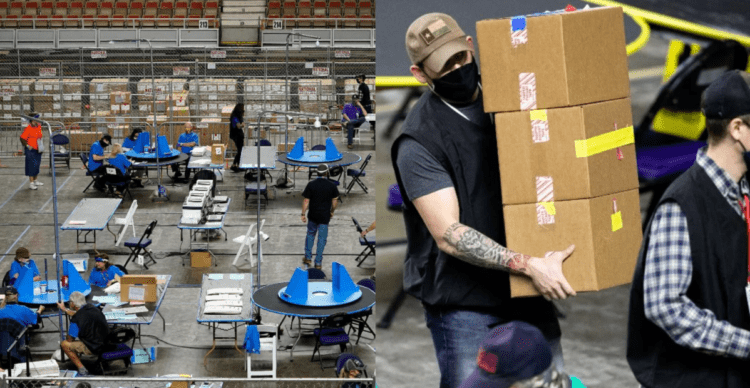 Delegates from Georgia, Alaska, Colorado and Nevada have all toured the floor of the Maricopa County forensic audit in Arizona this week, suggesting further audits potentially coming across the country.
As the forensic audit of the 2020 election results from Arizona's Maricopa County is currently taking place, delegates from all across the country are flocking to observe the enormous effort that is currently taking place in the Veterans Memorial Coliseum. As National File reported, the first state to send people to observe the audit was Pennsylvania, with Doug Mastriano, the pro-Trump Pennsylvania state senator, joining two other Pennsylvania lawmakers, Representative Rob Kauffman and Senator Cris Dush. "This audit is so secure, transparent and organized that other states want to duplicate the process," Mastriano said at the time.
Up next were Nevada, whose delegates joined the audit floor on Monday, led by NVGOP Chair Mike McDonald, swiftly followed by Georgia on Tuesday. Reports from last week had already confirmed that Georgia were sending delegates, with Nevada being more of an unexpected arrival to those not in the know. John Fredricks told Steve Bannon last week that the Georgia delegation would be led by Vernon Jones, joined by State Senator Brandon Beach and Burt Jones, who may be running for Lieutenant Governor of the state.
Former Arizona State Representative Anthony Kern, a staunch supporter of President Trump who attended many "Stop the Steal" rallies after the November election, tweeted that along with the reported Georgia arrivals, delegates from Alaska and Colorado were also touring the Maricopa audit floor on Tuesday. "4 down and 46 states to go! Results coming soon," Kern said. (READ MORE: Brian Kemp, Who Met With Suspected Chinese Spy Leader, Fights Against An Audit In Georgia)
This seemed to confirm initial reports from Monday, when OANN reporter Christina Bobb told the network that she expected to see "more states" than just the then-upcoming Georgia delegation out on the audit floor this week. National File reported last month that Arizona State Senator Wendy Rogers had toured the audit floor, and was able to dispel a number of myths regarding what exactly was taking place in Maricopa County:
Rogers was able to describe the procedures on the floor of the audit, confirming that security was taken incredibly seriously by the volunteers and organizers. Tally sheets and ballots were only allowed to be moved if there were three things present, that being people, papers, and cameras. Contrary to the claims of Secretary of State Katie Hobbs, the data collection system used by CyFIR was "read only," and couldn't change any votes, with everything at the site also being videoed, Rogers said.

A retired USAF pilot who is serving as a volunteer for the audit also informed her that the chain of custody procedures for the ballots "are as precise and flawless as Strategic Air Command's." He further slammed Hobbs, saying it was "laughable" that she claimed the machines were compromised, when she initially claimed that they were unhackable.