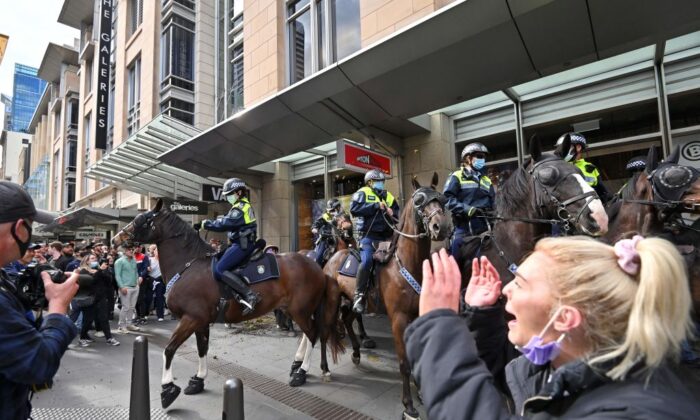 Police officers on horseback disperse protesters during a rally in Sydney, Australiaon July 24, 2021, as thousands of people gathered to demonstrate against the city's month-long stay-at-home orders. (Steven Saphore/AFP via Getty Images)
New South Wales (NSW) Police Commissioner Mick Fuller has labelled protestors who attended the massive July 24 Sydney rally against COVID restrictions "anarchists."
Fuller revealed that police had received over 10,000 tip-offs regarding individuals involved in the protests and that 57 people had been charged, while 250 were fined. Officials and police in NSW and Victoria have taken a hard line against the event.
The commissioner addressed reports of a potential follow-up rally online and issued a blunt warning, "Can I just put this warning out now to everyone? We will be heavily policing that event."
"The community has spoken about that behaviour. The premier has spoken about that behaviour, and it won't be tolerated again," he told reporters.
"There are no organisers that we can take to the Supreme Court to stop the protests happening, which means they're a bunch of anarchists," he said. "In terms of the police response, it will be significant, on Saturday if it is planned to go ahead."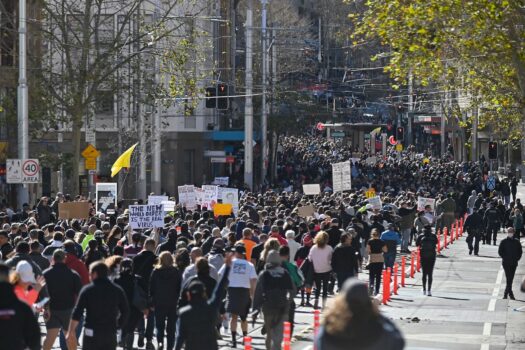 "We will take the ground very early. You will be arrested and prosecuted."
On July 24, thousands of protestors took the streets of Sydney and Melbourne as part of the "World Wide Rally for Freedom" event.
In Sydney, Australians gathered at inner-city Victoria Park before marching to Town Hall in the central business district, escorted by a heavy police presence which included mounted police and riot officers.
Protestors carried signs, and in a video posted on Twitter by Pedestrian Daily journalist Zac Crellin, they can be heard chanting: "What do we want? Freedom. When do we want it? Now!"
Previous protests had only garnered several hundred attendees, but Saturday's event saw attendance balloon to several thousand individuals.
Greater Sydney is undergoing a five-week lockdown due to an outbreak of the Delta variant of the CCP (Chinese Communist Party) virus, commonly known as the novel coronavirus.
Currently, five million residents are under stay-at-home orders and cannot leave their homes except for four reasons. Last week, construction sites were shut down as part of the government's tightening restrictions, affecting blue-collar workers.
NSW Premier Gladys Berejiklian said she was disgusted and heartbroken by the protestors saying they showed "utter contempt for their fellow citizens." Victorian Premier Dan Andrews described them as "selfish."
Police in NSW and Victoria are currently combing through footage from social media, CCTV, and police cameras to identify attendees. One allegation of a mounted officer being hit by a flying bollard is being investigated.
However, there has been criticism over media portrayals of the event as well, with one circulated photo featuring a man wearing a yellow shirt allegedly attacking a police horse.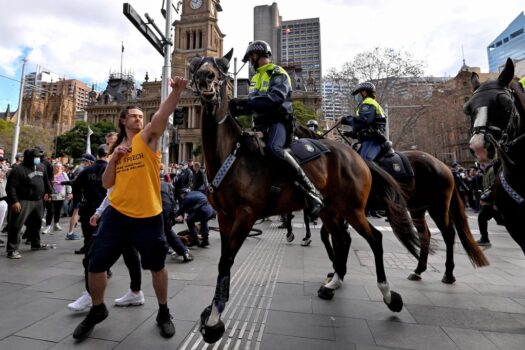 Police have charged the man.
However, the federal Member of Parliament, George Christensen, posted footage on Facebook, showing the man pushing the horse away as it circled through protestors.