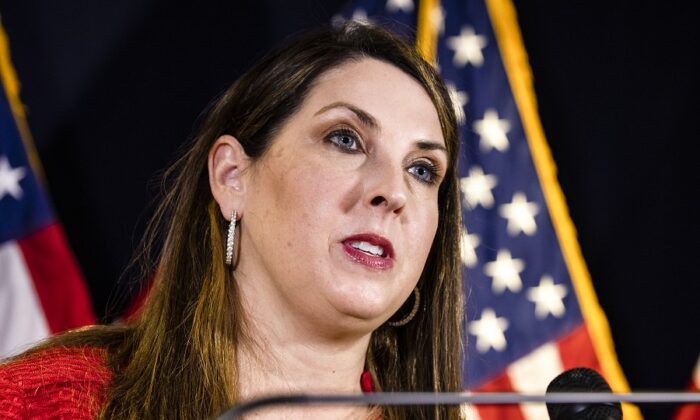 Republican National Committee Chairwoman Ronna McDaniel speaks during a press conference at the Republican National Committee headquarters in Washington on Nov. 9, 2020. (Samuel Corum/Getty Images)
---
Original Article
.  Let's see if this one gets dismissed due to "standing" as it should.  The DOJ has NO Constitutional authority over a state's election laws.  Of course their claims are also false.
Republican Committees to Intervene in DOJ Lawsuit Challenging Georgia Election Law
BY 
MATTHEW VADUM
July 8, 2021
Updated: July 8, 2021

---
The Republican National Committee (RNC) and National Republican Senatorial Committee (NRSC) will intervene in the Biden administration's lawsuit against a popular election reform law Georgia adopted earlier this year, the leaders of two of the organizational and fundraising arms of the Republican Party said on July 8.
The government lawsuit in which they plan to participate was filed on June 25 in federal court in Atlanta. The legal complaint alleges that several provisions of the Georgia statute, known as the Election Integrity Act, are racially discriminatory and calculated to suppress black voter turnout. President Joe Biden and other Democrats have, at times, used inflammatory rhetoric, likening the statute to Jim Crow-era segregation laws.
"The right of all eligible citizens to vote is the central pillar of our democracy—the right from which all other rights ultimately flow," U.S. Attorney General Merrick Garland said. "This lawsuit is the first step of many we are taking to ensure that all eligible voters can cast a vote, that all lawful votes are counted, and that every voter has access to accurate information."
The Georgia law "will make it harder for people to vote," he said.
Georgia Gov. Brian Kemp, a Republican, said the lawsuit was "born out of the lies and misinformation" of the Biden administration, which he says aims "to carry out their far-left agenda that undermines election integrity and empowers federal government overreach in our democracy."
RNC Chairwoman Ronna McDaniel refuted Garland's argument.
"After failing to sell [the proposed "For the People Act"] to the American people, Joe Biden and Democrats are weaponizing the Justice Department by trying to strong-arm the state of Georgia into making its elections less secure," McDaniel said in a statement.
The legislation failed in the U.S. Senate last month on a procedural vote, but other similar bills remain pending in Congress.
"The RNC is intervening in this case because the security of the ballot is more important than Democrat power grabs," she said.
After describing the government lawsuit as "incredibly weak," she predicted that it would "follow Brnovich v. DNC as another Republican win for election integrity and the rule of law."
In the Brnovich decision, the Supreme Court ruled on July 1 that Arizona's electoral integrity law, which bans ballot-harvesting and out-of-precinct voting, doesn't violate the federal Voting Rights Act.
"Democrats in Washington are fighting tooth and nail to strip states of all local election control, and Georgia is their number one target," said Sen. Rick Scott of Florida, chairman of the NRSC.
"The Department of Justice's frivolous, politicized lawsuit looks to overturn a common sense, popular bill that would protect every Georgian's vote, encourage more voting, and restore trust in the process."
Former Justice Department civil rights attorney J. Christian Adams said beating the government lawsuit was hardly a certainty.
"The lawsuit is not close to doomed. In fact, there are very serious claims made about racial intent, and the Supreme Court case does not foreclose them."
"Anyone who says otherwise doesn't know this area of law very well," Adams, president of the Public Interest Legal Foundation (PILF), told The Epoch Times.
Adams noted that PILF filed a motion to intervene in the lawsuit days before the RNC and NRSC announced their involvement.
"This case raises the important constitutional question of whether the Voting Rights Act of 1965 can terminate the power of a state to enact reasonable election integrity laws," the PILF motion reads.
"The Foundation suggests that such an application of the Voting Rights Act … as pled by the United States would be wholly beyond constitutional limits and contrary to the plain meaning of the statute."
The announcement by the RNC and NRSC came after the state law, which is also known as SB 202, withstood an activist group's attempt to invalidate it in a separate lawsuit. Kemp signed the measure into law on March 25. On July 7, Atlanta-based U.S. District Judge Jean-Paul "J.P." Boulee, a Trump appointee, denied a request in a case known as Coalition for Good Governance v. Kemp for a preliminary injunction barring enforcement of parts of the statute, The Epoch Times reported.
Runoff elections for the state legislature are in progress and granting an injunction at this time "would change the law in the ninth inning," Boulee wrote in his order, noting that he "reserves judgment regarding the propriety of relief as to future elections and will issue a separate order on this question at a later date."
So far a total of eight lawsuits have been filed against the 3 1/2-month-old Election Integrity Act, the Atlanta Journal-Constitution reported.
The newspaper also reported that an April poll of Georgia voters carried out by the University of Georgia found that 65 percent of respondents supported the law's requirement that a driver's license number be provided to verify absentee ballots. A requirement that drop boxes be allowed to be placed only inside early voting sites garnered 55 percent support. Around 60 percent supported reducing the cutoff for requesting absentee ballots from 11 days to four days.
With reporting by Jack Phillips
** End **
 

How You Can Help Us Keep You informed

Why do we need your help to fund our investigative reporting in the United States and around the world? It's because we are an independent news organization that is free from the influence of any government, corporation, or political party. Since the day we started, we've faced efforts to silence the truth—most notably by the Chinese Communist Party. But we won't bend. We're depending on your generous contributions to keep traditional journalism alive and well. Together, we can keep spreading the truth.