We all know that all the "cases" against President Trump are baseless lawfare (wasting our tax dollars on more Witch Hunts) to illegally attempt to keep him from being elected. And, we all know that our country overwhelmingly wants him to be our president. So, please take note of all the players in this scheme who are intensely working against our country for their own selfish, destructive agenda. The time is coming when we will need to DEAL WITH ALL OF THEM. Given these facts, I have decided to just list some the large articles dealing with this mess instead of trying to post all of them here. There are just too many of them.
---
Table of Contents (Reverse Chronological Order)
---
BREAKING: Unhinged Judge Engoron Under Scrutiny for Allegedly Posting Half-Naked Photos of Himself to High School Alumni Newsletter He Controls (VIDEO)
Original article. Are you kidding me!!! I am guessing the Judge Judy would come nearer being qualified to preside over this case than Judge Nudity. Of course that decision was just one of many questionable ones in this sham show they call a trial.
---
By Jim Hᴏft, Nov. 8, 2023 2:00 pm, 1683 Comments
In a not-so-surprising twist in the presiding judge's life of the ongoing sham Trump trial in New York City, unhinged Judge Arthur Engoron has taken to an unconventional pastime—posting half-naked photos of himself on an alumni newsletter he oversees.
Research group Marco Polo first reported this revelation.
Engoron, a Wheatley alumnus from 1967, is responsible for curating the Wheatley Alumni Association Newsletter, which updates and connects past graduates with memories, news, and obituaries.
According to a post on Marco Polo's X account, Judge Engoron has used this platform to share more than just school spirit.
The newsletter, in its 51st edition, features a variety of alumni-related content, from heartfelt memorials to lighthearted class reunion announcements.
It was in this very issue that Judge Engoron chose to include a "BonusTorsoPhoto," a peculiar addition that showcased a malnourished torso, presumed to be his own. This unconventional editorial choice has left many questioning the appropriateness of such content in a school alumni newsletter.
Further stirring the pot, issue #63 of the newsletter presented a before-and-after pictorial of the same torso, ostensibly to display physical improvements over time. These images, intended to flaunt muscle gains, instead cast a shadow of doubt over the judge's judgment.
The matter has not gone unnoticed in the media, with Jesse Watters of Fox News dedicating a segment to this unusual revelation. Watters did not mince words when discussing the judge's actions.
He dubbed Judge Engoron "Judge Nudie," a play on the famous "Judge Judy," and expressed incredulity over the judge's decision to share such personal images in a professional context.
Watters questioned the credibility and seriousness of a judge who engages in such activities.
"The man's a joke," Watters said, suggesting that someone with such a penchant for frivolity should not wield the power to make monumental decisions affecting the former President's business ventures.
WATCH:
Creep Judge in charge of Trump's bogus case in NYC exposed taking unsettling photos: "JUDGE NUDIE!" pic.twitter.com/8lCil3CayU

— Benny Johnson (@bennyjohnson) November 8, 2023
As The Gateway Pundit previously reported, in 2015, Judge Engoron gave a lecture to college students and told them he makes decisions based on emotions about a case. Engoron said he will use 'judgment notwithstanding the verdict' to overturn verdicts based on emotions.
This is called "judgment notwithstanding the verdict." While this particular trial against Trump in not a jury trial thanks to New York Attorney general Letitia James filing a consumer protection order, the below video does provide valuable insight into the mind of this radical activist deciding the 45th president's fate.
In 2015 the Judge from the Trump case gave a lecture to some college students.

It's scary to think of the amount of power this lunatic currently has. pic.twitter.com/iqP52lDnB0

— MAZE (@mazemoore) October 3, 2023
** End **
---
Trump Attorney Alina Habba Goes Off on Soros-Backed Letitia James and Judge Engoron in Bogus Trial: "I Was Yelled At and I've Had a Judge Who Is Unhinged Slamming a Table… I Won't Tolerate It" (VIDEO)
Original article. There is not one ounce of concern for justice in a Witch Hunt. President Trump has seen this over and over in the many Witch Hunts he has endured. Attorney Alina Habba is calling out this entire evil sham show of a Witch Hunt. America, are you waking up to these attacks on our country??? See X22 Reports in "A Hopeful Way Forward." President Trump correctly called it seven years ago (see video below with similar title). The prosecution and judge have nothing but lies and deception to support their narrative, as in the other so-called "cases" against President Trump.
You can see all of this for yourself in: Trump Crushes It During Testimony, Calls Out Stalinist AG Letitia James: "She is a Political Hack Who Wants to be Governor. This is a Political Witch Hunt and I Think She Should be Ashamed of Herself"
---
As The Gateway Pundit reported earlier, former President Donald Trump appeared to defend himself against allegations of financial misrepresentation brought forward by Soros-backed New York Attorney General Letitia James. The courtroom witnessed tense proceedings, with Judge Arthur Engoron frequently intervening to keep the hearing on course.
Engoron is very upset that President Trump is able to speak freely during his trial.
Insider accounts suggest that Engoron repeatedly attacked President Trump for his long-winded answers to questions about his highly successful international business.
New York Attorney General Letitia James is hoping to pilfer $250 million from the Trump family for her ridiculous claims that the Trump organization was overvaluing their assets. The court has failed to prove this during the show trial.
Alina Habba, Trump's attorney, did not mince words in her address to the media.
"I'm not here to hear what he has to say that was what rang true, loud, and could not have been more honest coming from the judge who had already predetermined that my client committed fraud before we even walked into this courtroom," said Habba.
During her speech, Habba slammed Letitia James for their witch hunt against Trump.
"I'm not here to hear what he has to say. Then why exactly am I being paid as an attorney? And why exactly are taxpayer dollars being used in this courtroom? The answer is very clear. Because Miss James wants to stand right here like she did this morning and call my client a liar, call the company fraudulent, and make a name for herself."
"She said this morning that the numbers don't lie, and they won't lie in this case. Well, Miss James, I have a message for you. The numbers didn't lie when you ran for governor, and that's why you dropped out. And the numbers don't lie when President Trump runs for office in 2024 and those numbers are loud and clear."
Habba emphasized that every American citizen has the right to a fair defense and a voice in the courtroom, stressing the importance of preventing corruption and ensuring that attorneys can protect their clients' interests without restriction.
"This country is falling apart. And if we don't stop corruption in courtrooms where attorneys are gagged, where attorneys are not allowed to say what they need to say to protect their clients' interests, it doesn't matter what your politics are."
"Everyone has a right in this country to get up and put a defense.I don't care who you are. You have a right to hire a lawyer who can put objections on the record. You have a right to hire a lawyer who can stand up and say something when they see something wrong."
Habba further criticized Judge Engoron's conduct, stating that she was yelled at and witnessed him slamming a table. Expressing her intolerance for such behavior, she called for a restoration of respect and fairness in the judicial system.
"I was told to sit down today. I was yelled at. And I've had a judge who is unhinged slamming a table. Let me be very clear. I don't tolerate that in my life. I'm not going to tolerate it here. And you know what? You shouldn't either because not every American citizen gets a camera and a microphone. And what I'm seeing is such a demise of American judicial system and democracy."
Habba also accused Attorney General James of harboring political biases and being supported by George Soros, a far-left financier. She argued that James rushed to judgment without understanding the accomplishments and expertise of Donald Trump, including his impact on New York City's skyline and his success in the real estate industry.
"Miss James came out this morning and said that she knew Mr. Trump, and she always calls him Mr. Trump because it killed her that he was the president. But the 45th president of this country, one of the best presidents we've had, has built a great company. It's worth a ton more than that statement of financial condition. And she doesn't know how to get out of it because her politics won't allow her.
"She calls him a bully. She says he's going to bring out racial slurs.He's going to say things today and taunt her. Well, Miss James, you taunted him. Before you came into office, before you saw one record, one statement of financial condition, you taunted him."
"You said his administration was too male and too pale. Those are her words. She said that she and Michael Cohen were going to be his biggest nightmare."
Trending: BREAKING: Nashville Covenant School Trans Shooter's Manifesto Has Been Leaked
Habba just gave corrupt Letitia James and her star witness, along with far-left district attorneys and attorney generals, bad news.
"Well, I have some news for you, Miss James. Michael Cohen folded, lied, and crumbled. Your star witness, along with all the DAs and corrupt AGs, need to be paying attention to what happens when you let us take the stand, when you let my client speak the truth."
"And the judge can tell me to sit down, and he can try and shorten my client's testimony, but it is loud and clear they've got nothing. They've got nothing but their politics."
"She's got nothing but her Soros backing, which we discovered recently, and I am sick and tired of seeing it. Pay attention, America. Pay attention."
President Trump is worth a lot more, and she wasn't ready for it. She doesn't understand it. And before she rushed to judgment, she should have thought about attacking somebody with over 50 years of real estate expertise who changed single-handedly the skyline of New York City. She picked the wrong person, and her politics will fail for it."
Responding to a reporter's query about the judge's negative inference from Trump's longer answers, Habba alleged that Judge Engoron had issues with facts that didn't align with his desired narrative. She claimed that the judge had predetermined the outcome of the case and was attempting to silence Trump's explanations.
Regarding President Trump's decision to plead the Fifth Amendment previously, Habba explained that it was a strategic move made during a special proceeding. She asserted that the decision to fight the case on its merits was based on the belief that there was no substantial evidence against Trump.
WATCH:
** End **
---
Seven years ago, President Trump told us what to expect.
Original video. Also see "Ep 3201b – The People Are About To Face The Final Battle, Strategic, Much Will Be Revealed"
As he says: "The only thing that can stop this is YOU!!!"
---
** End **
---
The Complete 2024 Presidential Primary Schedule by State
---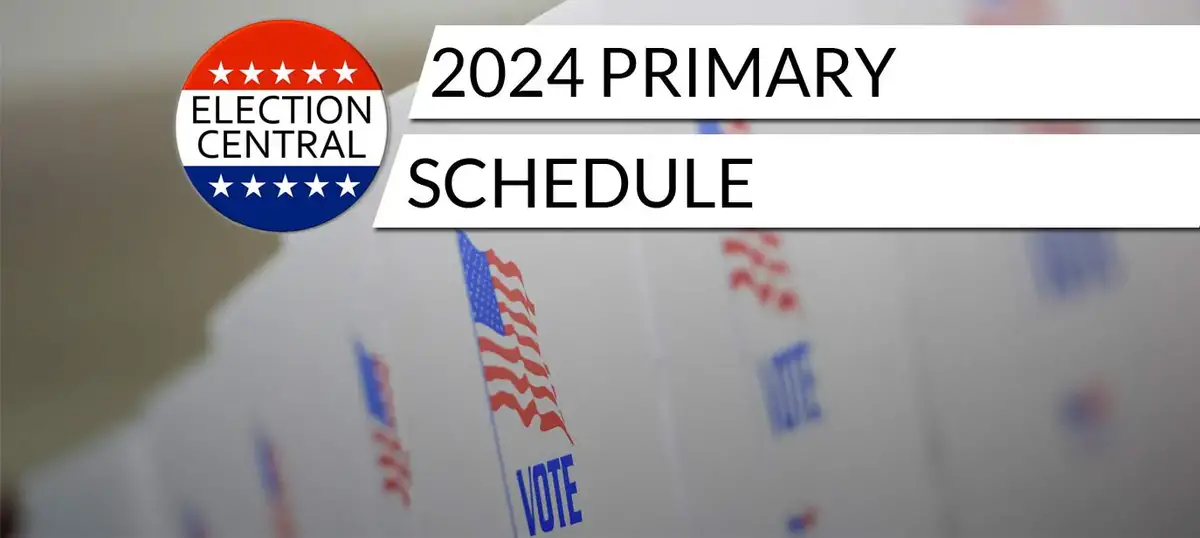 The 2024 presidential primary schedule is listed below with the date of each state's primary and caucus for Democrats and Republicans in the 2024 presidential primary. From the Iowa caucuses to Election Day on November 5, 2024, here is a look at which states vote when, and where the largest number of delegates are awarded. This page will be constantly updated with the latest information about voting dates, voting times, and delegates awarded by each primary and caucus on the 2024 presidential election calendar.
Super Tuesday in 2024 will tentatively take place on Tuesday, March 5.
All dates are subject to change as some states have yet to officially decide on their primary or caucus voting day. Due to changes in the Democratic primary calendar, some early states have not decided how they will award delegates to the Democratic National Convention. These states include Iowa and New Hampshire which have been replaced as early states but still intend to hold their own contests in violation of DNC rules. Republicans will stick with the historically traditional Iowa, New Hampshire, Nevada, and South Carolina path. Democrats have embraced South Carolina and Michigan as their starting primary states in 2024.
2024 Primary Schedule
Primary/Caucus Type
Open – Voters may vote in either party primary regardless of voter party registration but can choose only one primary to vote in
Closed – Only voters registered in their respective party may vote in the party primary
Mixed – A semi-open or a semi-closed environment, unaffiliated voters can choose to vote in either primary or voters can switch registration on the day of voting
Delegate Allocation
Democratic primary/caucus delegates are proportionally allocated to the candidates based on their percent share of the vote.
Republican primaries/caucuses delegates are winner-take-all meaning that the winner of the contest takes all of the available delegates.
Proportional – Delegates are awarded based on the percentage of the vote received by candidates, or some formulation of dividing up the delegates
Winner Take All – All delegates are given to the winner of the contest
Winner Take Most – Some delegates are reserved for the winner, some may be divided proportionally
Unbound – Delegates are not bound to a specific candidate and can support any candidate of their choosing, varies by the state party organization
If you find any errors or omissions, please use the contact page to provide updated information.
** End **