"These results are a travesty to our democracy and our voting rights."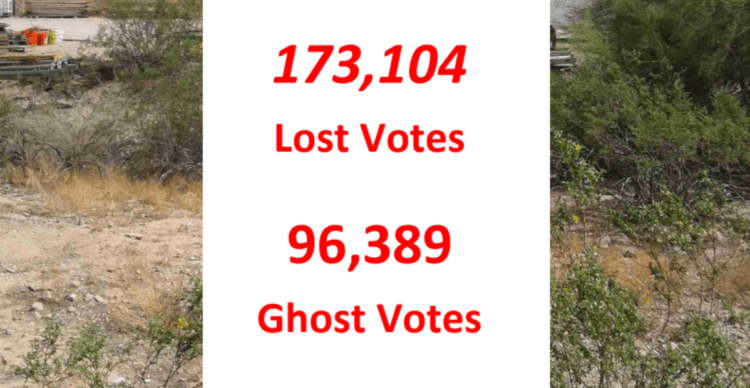 An independent canvass of Maricopa County found around 173,000 votes that were allegedly not recorded in the final results, and 93,000 votes by mail from people who were not at their supposed address by October 2020.
The independent canvass, organized by realtor Liz Harris, and a team of hundreds of volunteers, visited thousands of homes in a number of Maricopa County precincts, asking homeowners a number of questions about their votes in the November 2020 elections, including what methods they used to vote, and if they received any extra ballots for voters not living at the address.
Following the canvass, which yielded 4,570 data points out of 11,708 homes visited, the canvass organizers announced that they estimated around 173,104 votes that were submitted to Maricopa County were not counted and had gone missing, based on an extrapolation of 330 individuals who were interviewed at their residence who said they had voted but did not have their votes registered. This was a missing vote rate of 34.23%, with 964 registered voters interviewed by the team who Maricopa did not have a recorded vote for.
Around approximately 96,389 mail-in votes were also "ghost votes," the canvass organizers announced, where those who cast the vote did not live at the address registered to them. Out of 2,897 mail-in voters registered to residences that the volunteers canvassed, 164 mail-in votes were either unknown to the current residents, or were known but had moved prior to October 2020. With mail-in ballots being unable to be forwarded, it would be impossible for those voters to have received their ballot.
One example given was of a homeowner who rented out a room to somebody in 2010 who later moved out of Arizona before the next election. Even though they had moved out of state, voter records allegedly show that a ballot has been cast under their name, using the same residence address, for all elections from 2012 onward.
Other issues also appeared to the volunteers conducting the Maricopa canvass with mail-in ballots, including allegations that those with a registered mail-in ballot vote actually voted in person, that some others didn't actually vote at all, and that some even came from allegedly empty lots. These issues in total came to 5.18% of all mail-in ballot voters, representing an estimated 88,215 across the county.
The results for the full forensic audit have still yet to be released. The draft report was due to be shared with the state's legislature at the end of last month, but was delayed due to Doug Logan, the CEO of Cyber Ninjas, who ran the audit, and other members of the team becoming sick with COVID. Arizona Attorney General Mark Brnovich also recently declared that the Maricopa County Board of Supervisors broke state law by refusing to comply with a subpoena from the Arizona Senate for routers and network logs, giving them 30 days to hand the materials over, though Brnovich has been criticized heavily by those in the state who say this gesture does not go far enough, and will not result in compliance.