Original article. MC County has already "played the games" by combining the 2020 corruption with their new disenfranchising corruption in the 2022 elections. Time to face the music!!!
By Tom Ozimek, November 26, 2022, Updated: November 27, 2022
---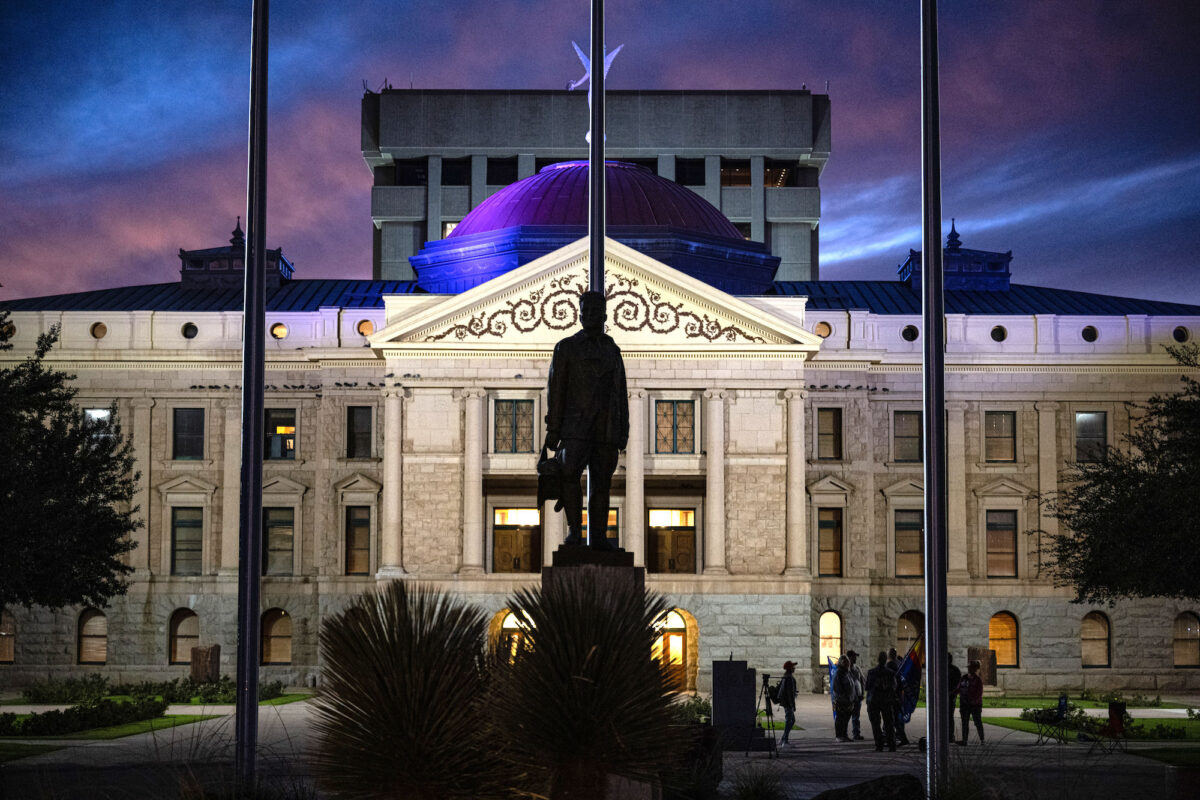 Protesters claiming voter disenfranchisement and a stolen election rallied near the Arizona state Capitol on Nov. 25, demanding that the planned Nov. 28 certification of the 2022 election be halted and a new election take place in December, according to local media.
"We're talking about serious voter suppression," outgoing Mesa Republican state Sen. Kelly Townsend told a growing crowd across the street from the state Capitol on Nov. 25, according to The Arizona Republic.
Around 200 people took part in the rally, some holding flags and others signs claiming the election was stolen, according to the outlet.
"Where is our recourse with the Legislature?" asked Townsend, who served a subpoena on Nov. 23 to Maricopa County officials demanding information about Election Day problems. The subpoena is unenforceable without a Senate vote.
At issue are claims around voter disenfranchisement related to polling-place problems in Maricopa County made by some voters and some Republican candidates who lost their races to Democratic opponents.
Problems with printer ink kept ballots from being accepted by tabulator machines, leading to a number of spoiled votes or people who abandoned the process after trying to cast their vote.
"Thousands, possibly tens of thousands of voters on Election Day in Arizona were disenfranchised and unable to cast their vote due to the unacceptable incompetence of Maricopa County. This election needs a do-over," Rep. Paul Gosar (R-Ariz.) said in a post on social media.
Maricopa County election officials have acknowledged Election Day polling-place problems but insist the issues were corrected and no voters were disenfranchised.
Maricopa Board of Supervisors Chair Bill Gates said at the time that "no one is being disenfranchised … and none of this indicates any fraud."
One of the advised fixes for the tabulation problem was for voters to put their ballots into a box to be counted later.
Some poll observers have said that poll workers mixed counted and uncounted ballots at the end of the night, according to a lawsuit filed by Arizona Republican gubernatorial candidate Kari Lake against Maricopa County.
"Given instances of misprinted ballots, the commingling of counted and uncounted ballots, and long lines discouraging people from voting, as demonstrated in the attached declarations, these records are necessary for Plaintiff to determine the full extent of the problems identified and their impacts on electors," Lake's 19-page suit states.
Lake's opponent Katie Hobbs, a Democrat who serves as Arizona's secretary of state, is currently ahead in the race.
The Republican gubernatorial candidate's lawsuit asks the court to compel Maricopa County to produce the records prior to the canvassing, which is scheduled for Nov. 28.
Lake said on Steve Bannon's "War Room" program that Maricopa County is "trying to run out the clock," referring to the looming canvass. She hasn't conceded the race.
Maricopa County didn't reply to an earlier request for comment but the chair of the of the county's Board of Supervisors, which is controlled 4–1 by Republicans, said in a statement that the meeting to canvass the election will be held on Nov. 28, as planned.
"There will be no delays or games; we will canvass in accordance with state law," Gates said.
Certification votes are also scheduled for Nov. 28 in five other counties, including two where Republican supervisors voted earlier to delay certifying the election.
Arizona's statewide canvass is scheduled for Dec. 5.
Zachary Stieber contributed to this report.
** End **