Original article. Translation: Corrupt and Lawless Government using lawfair against We The People. This is why Election Integrity is SO IMPORTANT; to clean up our government. They are trying to shut us up by attacking the strongest patriots of our country. It's NOT going to work.
by Summer Lane, September 9, 2022
---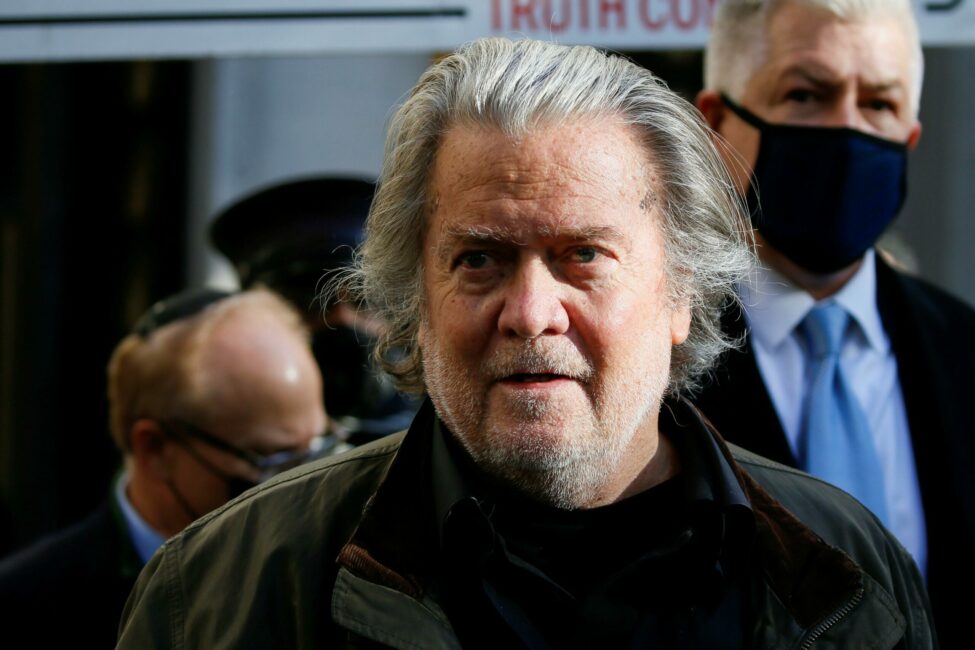 Steve Bannon, a former advisor to President Donald Trump, was indicted on Thursday in New York on multiple counts, including conspiracy, scheme to defraud, and money laundering.
Bannon, who a jury found guilty of contempt for defying a congressional subpoena related to an ongoing investigation from the Jan. 6 Committee, arrived for his arraignment, telling the press as he walked into the courtroom, "They will never shut me up – they'll have to kill me first."
He added, "I have not yet begun to fight."
During a press conference early Thursday afternoon, New York District Attorney Alvin Bragg and Attorney General Leticia James addressed Bannon's charges, focusing the brunt of their legal attacks on Bannon's personal conduct related to the "We Build the Wall" campaign.
Bannon is being accused of stealing "millions of dollars" by "laundering the proceeds" of the organization's donations. James stated that the amount of money was allegedly at least 15 million dollars.
Per the Associated Press, this indictment is a state-level attempt to prosecute Bannon after a federal case was put to rest with a presidential pardon from President Donald Trump on his final day in the White House in 2021.
Following news from the Washington Post that Bannon was planning to turn himself in to New York prosecutors preceding the indictment, the "War Room" host released a statement hitting back against the charges:
"Just days after being swatted three different times by deranged thugs from New York City inspired by the Biden Administration to assassinate me by police, the Soros-backed DA has now decided to pursue phone charges against me 60 days before the midterm election because WarRoom is the major source of the MAGA grassroots movement."
According to a report from the St. Louis Post-Dispatch, Bannon has pleaded not guilty to all six counts from New York state.
** End **