Original source of videos. You have, no doubt, heard the phrase "Don't shoot the messenger." Well, how about the person who enabled the messenger to speak? You would think the AZ Legislators (House & Senate) would have been very thankful to have all of that massive evidence handed to them on a silver plater about the extensive crimes going on right under their noses. But no, they instead expel their member who enabled that messenger to speak. Hmm??? What does that tell you? I know Liz Harris and find it inconceivable that the AZ House of Representatives would even think about expelling one of their best representatives of the people of Arizona!!! And, they used trumped up charges to do it (pun intended). The Liz Harris attack has the same credibility as all the fraudulent attacks against our President Trump. Does this mean that they are working against We The People of Arizona? Just consider what we have. Massive evidence of multi-state crimes and corruption of the worse kinds was presented to the AZ House of Representatives and Senate 2/23/23 and
THEY HAVE DONE ABSOLUTELY ZERO ABOUT IT!!!.
AND, now they have expelled the very person who allowed that presentation to happen, even though she had no idea what the contents of it would be. Why are they not jubilant to receive this IMPORTANT EXPLANATION of the fraud we have seen, which now seems to just be the tip of the ice berg. Call me crazy, but that certainly sounds like they are working against our state to me!!!
If our Legislators (House & Senate) has any integrity left, this vote will be made public so that We The People will know the numbers and the individuals working against us. It sounds like we have far more work to do than I previously realized.
Looks like it is official: "PHOENIX – The Arizona House has voted to expel Republican state lawmaker Liz Harris. The final vote on Wednesday was 46 to 13."
AZ Legislators (House & Senate)
work against We The People of Arizona.
Here is the list (lots of work to do):
I will be adding to this post for some time. I am waiting for the list of voters.
Related posts:
---
Absolutely, positively, 100%, NO.
** End **
---
12 April 2023 PM Show – Live with Liz Harris: AZ House Disgraces Itself, Expels Only Rep with Integrity
Original video. You probably want to have your barf bag handy before you watch this. This is the despicable liars that rejected 8 of 10 exhibits Liz Harris submitted, misinterpreted and lied about the text messages illegally obtained that they blind-sided Liz with. And, expelled the best supporter of We The People they had. So, the entire process should be declared invalid and thrown out!!! More reasons are identified in the other parts of this post. BTW, There have been many interviews posted online of John Thaler and he freely answers questions. As far as I know, everyone who has interviewed him, believes he is telling the truth. And, Bannon Howse even did some his own investigation to very what he was being told. RIGHT ON: "She is guilty of allowing information they didn't like to be presented." NOONE CARES enough to investigate to verify the information is true. They needed an excuse to get rid of the person pushing to eliminate Election Crimes/Fraud and restore confidence in our elections to We The People of Arizona.
---
** End **
---
Liz Harris Situation, the Power used and Righteousness
---
** End **
---
** End **
---
Ethics Committee Chair Allowed Inadmissible Questionably Obtained Texts Between Harris and Thaler as Key Piece of Evidence
---
by Brian Ference | 1 comment
Fun Fact: The last time an Arizona House Representative (R Don Shooter) was expelled was 5 years ago over allegations of sexual misconduct. Representative Liz Harris's alleged disorderly behavior is hardly an equivalent crime.
Hopefully you have read my other post: In Astonishing CYA AZ House Votes to Permanently Expel Liz Harris For Bogus Disorderly Behavior While Democrats Elsewhere Bring Bull Horns and Without Bothering Looking Into Allegations
The move was widely condemned as the wrong one and setting a dangerous precedent which will be misused against Republicans in future: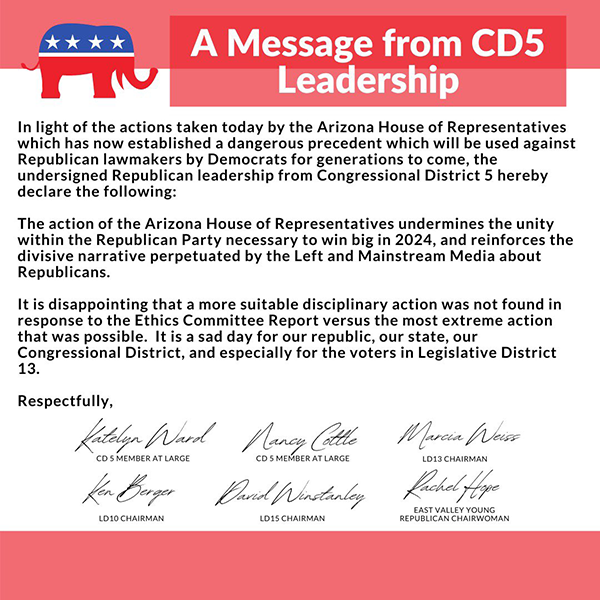 Ethics Committee Chair Allowed Inadmissible Questionably Obtained Screenshots Texts Between Harris and Thaler as Key Piece of Evidence
Page 4 of the Ethics Committee Report states:
"Additionally the Committee considered a series of screenshots of apparent text-message conversation between Representative Harris, Breger, and another individual, John Thaler, and marked these messages as Exhibit 5. Although the screenshots were left anonymously on the House Majority General Counsel's desk in an envelope, the Chairman determined that the messages were relevant and could be considered by the Committee, despite the unusual circumstances under which the Committee received the evidence."
Thaler sent a Cease and Desist to Joseph Chaplik on April 3rd saying that "I did not provide the messages to you or your committee, nor did I authorize anyone to provide them to you or to your office or to any department in the State Capitol."
Thaler goes on to say "During this time, computer hacking to hinder our work and destroy our files has been constant. And I have stated the same in multiple filings with the courts. That appears to be the case currently." This suggests that the text were obtained by illegal means through computer hacking!
Does this mean that prior to issuing the Committee Report on April 11th, Ethics Committee Chair Joseph Chaplik knew that Exhibit 5 was questionably obtained and should not have been admissible? If so, then why did he not call that fact out in the report or move to strike that evidence from the report or even note that it should be disregarded? The actions of the Kangaroo Court and Joseph Chaplik are unethical behavior for an Ethics Committee Chair and Committee.
UPDATE: In an ironic twist of fate, a screenshot of a text message from Representative Joseph Chaplik catches him lying to other AZ House of Representative members and consituents, saying incorrectly that Thaler provided the text screenshots: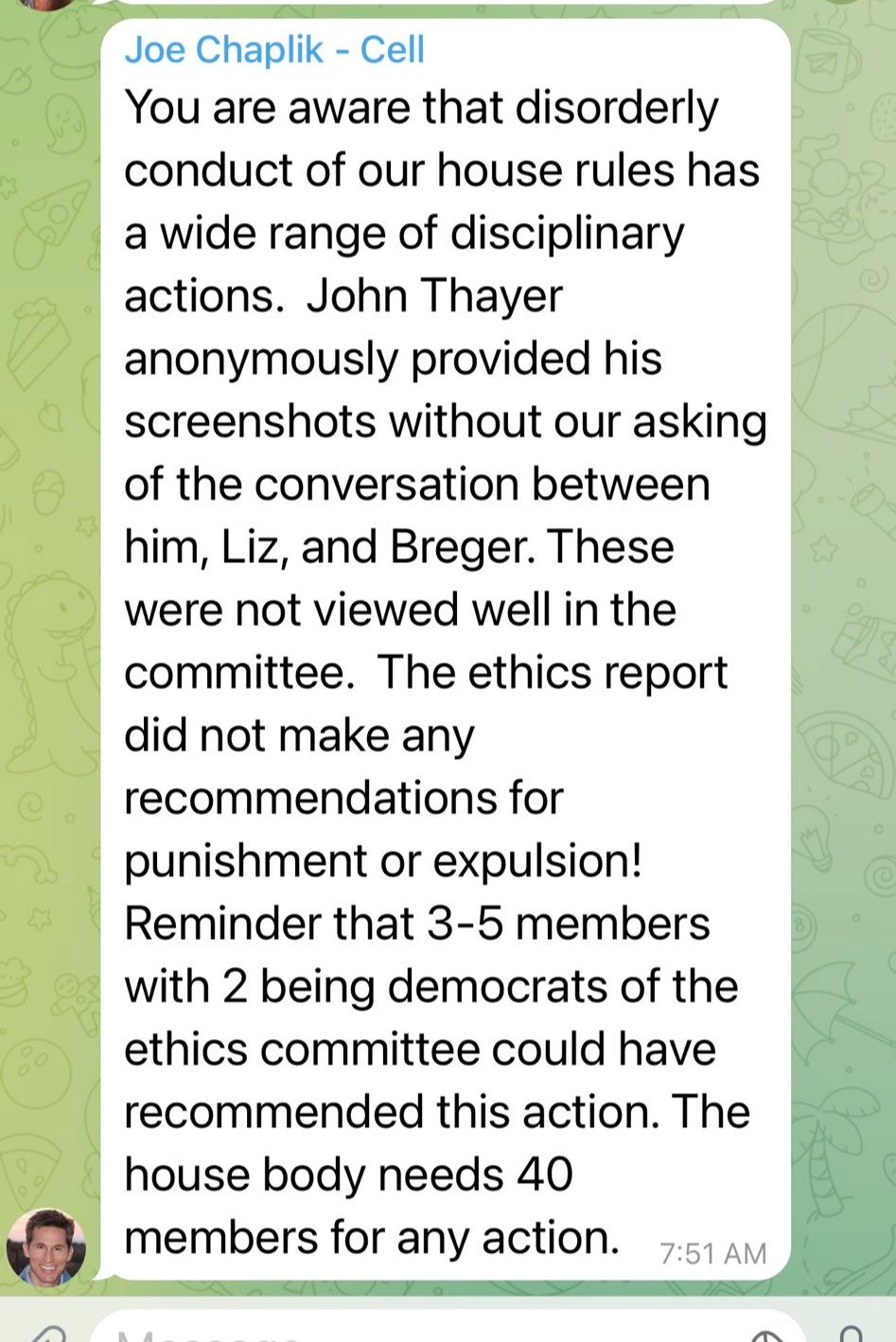 The Arizona House vote on 4/12/2023 is null and void and should be vacated immediately.
BONUS FUN FACT: Is this Representative Chaplik texting for a full 50 seconds during the opening invocation/prayer between 1:00 and 1:50 in this video here? That is not the proper respect for God or your fellow house member who is speaking.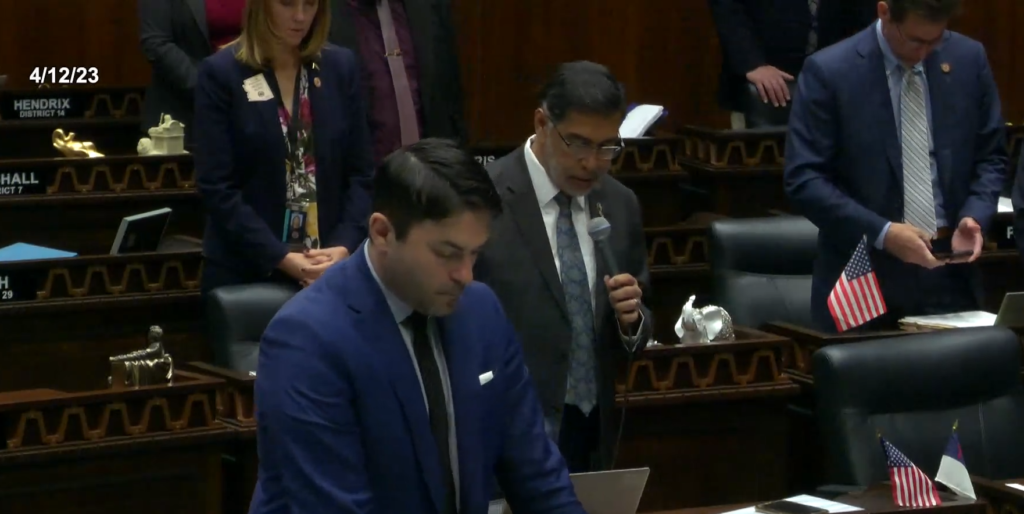 contact the AZ House representatives and ask that they vote to vacate this questionable vote and instead look into the allegations:
Contact AZ House Representatives or azleg.gov/MemberRoster/?body=H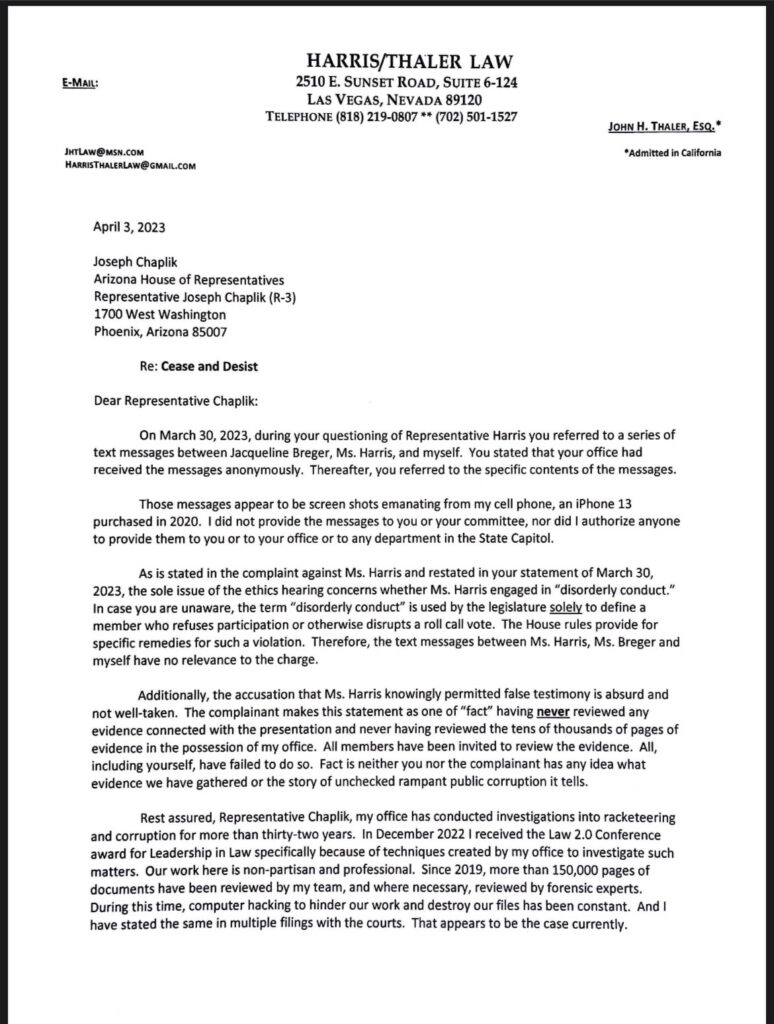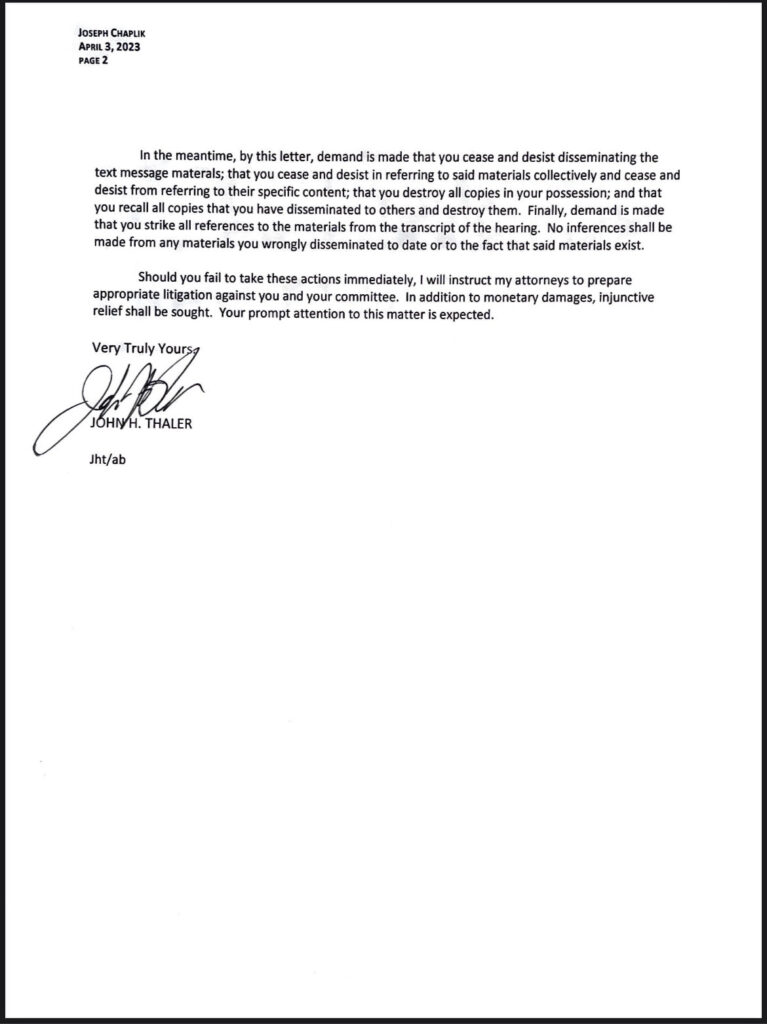 Related Posts:
** End **
---
Exclusive: AZ State Rep on Why Uniparty is Trying to Expel Her
Original video. Her first interview since 2/23/23.
** End **
---
Fake Voters and Fake Donors: Data Is Exposing the Steal (Draza Smith interview)
Original video. This is the interview mentioned in the above video.
This sounds like it could be the "Smurfs Fraud":
** End **
---
Liz Harris Speaks Out Since Being Expelled From AZ Legislature
---
** End **
---
Arizona House Expels Republican Legislator Liz Harris After She Presented Witness Who Alleged Crimes by Officials
Original article. Here is a much more reliable and accurate source (The AZ Sun Times) on this subject than the Fake News rags. However, I think previous parts of this post have presented some of the truths behind the scenes of which this paper may not have been aware. Do you think the AZ House will have sense enough to reinstate Rep Liz Harris for We The People of Arizona? What a stupid, misinformed, negligent mistake this was!!! It just seems they almost never get anything right and desperately needed her. Where is… their pursuit of the facts? investigation of the evidence presented? care about the obvious criminal activity that has corrupted our elections? Lack of action certainly does raise suspicions. They seem to be in La La Land!!!
---
The Arizona House voted 46-13 to expel State Rep. Liz Harris (R-Chandler) on Wednesday after conducting an investigation into her bringing a witness to testify to the Senate Elections Committee, who accused legislators and other public officials of committing crimes. Jacqueline Breger told the committee that Democratic Governor Katie Hobbs, State House Speaker Ben Toma (R-Peoria) and others executed fraudulent deeds as part of a bribery scheme involving the Sinaloa drug cartel, along with other accusations.
Various legislators say that Harris was not truthful when she said she did not know what Breger was going to say. But Harris told The Arizona Sun Times it wasn't that she didn't know about the criminal accusations – she had instructed Breger only to address election integrity.
After the explosive testimony in February, State Rep. Stephanie Stahl Hamilton (D-Tucson) submitted a complaint about Harris on March 6 to the House Ethics Committee, which is chaired by State Rep. Joseph Chaplik (R-Scottsdale). Hamilton alleged that Harris violated House Rule 1, which prohibits impugning other members. Chaplik led an investigation, held an evidentiary hearing, and issued a report from the five-member committee unanimously finding that Harris had violated the rule and committed "disorderly behavior."
However, he declined to issue any disciplinary recommendations in the report. He told The Arizona Sun Times that it should be the responsibility of the 60 members of the House, not three to five members of the committee. When the expulsion came up for a vote in the House, he voted against it, telling The Sun Times, "I didn't think expulsion was the right punishment." The House could have censured Harris or removed her from the Senate Election Committee, for example.
The report stated, "[T]he totality of the evidence shows that Representative Harris used her elected position to provide Breger with a legislative platform as a substitute for a criminal court." Harris, who is known as the "Canvass Queen" for her work investigating election fraud, brought Breger to testify about election fraud, Breger did not limit her remarks. The report stated they rejected Harris's claims during the evidentiary hearing that "no direct criminal allegations were made during the Joint Hearing" and disagreed with various other statements by Harris.
The report cited a lengthy handout Breger provided at the last minute to the committee members which contained a list of public officials who Breger claimed orchestrated fraudulent deeds. Breger works for John Harris Thaler of Harris/Thaler Law Corporation. Harris alleged to The Arizona Republic that State Senator Wendy Rogers (R-Flagstaff) also has fraudulent deeds. Additionally, the report said, "Breger also asserted that the Church of Jesus Christ of Latter-Day Saints 'control[s]''government agencies and has been 'integral to the laundering activities.'"
The report emphasized leaked text messages between Harris, Breger, and Thaler which indicated Harris knew in advance Breger was going to make the accusations. Screenshots of the texts "were left anonymously on the House Majority General Counsel's desk in an envelope." It's disputed who dropped off the text messages. State Rep. Harris confirmed to The Sun Times that they were hers, but said that while she had discussed the accusations of criminal conduct with Breger before, she instructed Breger to only speak about election fraud at the hearing.
Harris was given an opportunity by the committee to present her defense during the evidentiary hearing, and she submitted 14 exhibits. State Rep. Chaplik accepted four but rejected the remaining 10. Harris told The Sun Times she thought this violated her due process. Chaplik said he rejected them on the advice of legislative legal counsel, who told them they were not relevant to the issue being considered.
Harris told The Sun Times that one of the exhibits was a compilation of video clips of prominent Democrats expressing their concerns about election fraud a few years ago. She said it was relevant because the Democrats were trying to portray her as a "conspiracy theorist" for being concerned about election fraud.
Chaplik defended his handling of the disciplinary process. "I was very fair as an ethics chairman," he told The Sun Times. "I gave due process, made no recommendations, and did not allow a motion to discipline her because I felt 60 members should make the decision, not three to five members."
Harris believes the reason the House did not choose a lesser punishment is because leadership was already considering expelling her prior to the Breger testimony. After last fall's problem-plagued election, Harris vowed not to vote on any bills until the election was redone. Since members cannot simply refuse to vote, she voted no instead, she said, frustrating leadership because it was difficult to get bills passed without full Republican support due to holding only a 1-vote majority in the House.
The Sun Times asked Toma why he didn't opt for a lesser punishment, and he said that it was because he believed Harris lied, and explained that it was the entire House Caucus who was responsible for deciding the punishment. He said soon after Breger's testimony, he and House leadership asked Harris if she would apologize. If she would have, the expulsion procedures would have been dropped. Toma said it's common for legislative leadership to offer freshman legislators a chance to make up for a mistake. Harris refused, he said. Harris issued a statement critical of Breger's testimony shortly after the explosive hearing, which Toma pointed out was not an apology.
Multiple anonymous sources told The Sun Times that the reason House leadership did not agree upon a lesser punishment was because it would likely lead to Republicans losing their slim 1-vote majority in the House. Democrats didn't want expulsion, the sources said, they wanted to censure Harris then start a recall of her in order to replace her with a Democrat.
The 13 Republicans who voted no were Chaplik, State Rep. Neal Carter (R-Maricopa), State Rep. David Cook (R-Globe), State Rep. Gail Griffin (R-Hereford), Harris, State Rep. Justin Heap (R-Mesa), State Rep. Rachel Jones (R-Tucson), State Rep. Alex Kolodin (R-Scottsdale), State Rep. Cory McGarr (R-Tucson), State Rep. Barbara Parker (R-Mesa), State Rep. Jacqueline Parker (R-Mesa), State Rep. Kevin Payne (R-Sun City), and State Rep. Austin Smith (R-Surprise). The House needed a two-thirds vote to expel her, and with 18 Republicans voting to oust her they had more than enough.
Kolodin, an attorney, tweeted a screenshot of the voting board results, declaring "A sad day in the history of the Arizona House of Representatives. I fear we have set a dangerous precedent."
According to the Associated Press, Kolodin also said, "It will be perceived as setting the precedent that if you rock the boat too much, you will be expelled." He said Harris "made an error in judgement."
Kari Lake retweeted Kolodin, stating about those who voted no, "The names in RED are the good guys. The others …" She included a thinking smiley emoji.
The Kari Lake War Room account retweeted "A Message from CD 5 Leadership" which denounced the expulsion. CD 5 Member at Large Katelyn Ward tweeted the message, which was signed by herself and five others. Those were CD 5 Member at Large Nancy Cottle, LD 13 Chair Marcia Weiss, LD 10 Chair Ken Berger, LD 15 Chair David Winstanley, and East Valley Young Republican Chair Rachel Hope. The group stated that it set a "dangerous precedent" and "undermines the unity within the Republican Party." They concluded, "It is disappointing to see that a more suitable disciplinary action was not found in response to the Ethics Committee Report versus the most extreme action that was possible."
Former Arizona Republican Party Chair Kelli Ward tweeted, "No matter what you think about @LizHarrisMBA, expelling her from the legislature is ridiculous. It totally disenfranchises the people in LD13 as the people who voted her in are NOT the people who are expelling her. Instead of a recall by the voters of her district, 45 people who live in other parts of the state decided that LD13 will be underserved. And it is especially stupid on the part of the GOP as we had a one vote majority that "Republican leadership" just gave up. #SoDumb."
While the topic of Breger's testimony went viral afterwards on social media, there has been no confirmation that any of the public officials have fraudulent deeds associated with a Mexican drug cartel.
The last legislator to be expelled was State Rep. Don Shooter over sexual misconduct claims. It was also highly controversial, since the main accusations came from then-State Rep. Michelle Ugenti-Rita, who was accused of sexual harassment herself.
Republican precinct committeemen (PC's) in Harris' District 3 must choose three possible replacements within 21 days of the expulsion, and the Maricopa County Supervisors will select one of them to serve out the remainder of Harris' term, which ends in 2024. Sources tell The Sun Times that the PCs in Harris's district may try to choose Harris for all three slots.
The expulsion comes less than a week after two Tennessee Democrats were ousted from the Tennessee State House for disorderly conduct occurring while leading a protest for stricter gun control. They were both reinstated.
** End **
---
Explosive Testimony at Senate Elections and House Municipal Oversight & Elections Joint Meeting Accuses Hobbs, Fontes, Runbeck, and Judges of Racketeering
Original article. Here are some of the details. Remember, those who received the handouts were asked to turn them back in. Hmm…
---
Update: On April 12, 2023 State Rep. Liz Harris (R-D13) was expelled from the Arizona House of Representatives "after a legislative ethics committee report found she damaged 'the institutional integrity of the House' after she invited Jacqueline Breger to publicly speak before a group of lawmakers."
The Arizona Legislature's Senate Elections Committee and House Municipal Oversight & Elections Committee held a joint hearing on Thursday featuring testimony from several people involved in researching the voter disenfranchisement that occurred in 2020 and 2022. The testimony by Arizona forensic investigator Jacqueline Breger accused multiple statewide and county officials, including Governor Katie Hobbs and Secretary of State Adrian Fontes, of racketeering connected to the Sinaloa Cartel. Democrats on those committees refused to attend the hearing.
Breger said she has been working with a law firm investigating multistate racketeering and corruption but in the process, discovered election fraud as well. She said neither she nor the attorney she works for, John Harris Thaler of Harris/Thaler Law Corporation, are very political; he didn't vote in the last two elections, and she is a registered independent. While investigating racketeering involving the Sinaloa Cartel, their team accidentally discovered election fraud, she said, including finding that Maricopa County's database was being infiltrated from the outside.
"The Maricopa County database has absolutely no integrity whatsoever," she declared. "Racketeering enterprises are inextricably intertwined with election fraud," she said.
She said their investigation began several years ago by looking into the laundering of drug cartel money through single-family residences in Illinois. They discovered that several real estate agents had set up laundering activities in Arizona, which was "pervasive and ongoing" in Maricopa and several other counties. Her firm represents parties damaged by money laundering. They found fake notarizations, fake deeds of trust, and straw buyers. The related crimes included narcotic sales, bankruptcy fraud, life insurance fraud, payroll fraud, extortion schemes, bribing elected officials, creating and modifying public records, swatting individuals who pose a threat to the cartel activities, and election fraud.
She said her office is ready to work with any enforcement agencies. They reported their findings to former Governor Doug Ducey in May of 2022 and many law enforcement agencies. Several have opened ongoing investigations, including law enforcement in California and New Mexico, which have already used their report and taken some corrective action, she said. Their final report, which includes 47 findings, will include election fraud and will be a 300-page book with 3,000 attachments. It will be available on reporttothegovernor.com.
Breger said the Sinaloa Cartel began money laundering through single-family homes in 1994 in San Tan Valley, Litchfield Park, Goodyear, and Avondale. They make their profits from human trafficking and drugs like fentanyl. The criminality shows up, she said, in falsified construction invoices and charitable donations, fake tuition at trade schools, and fraudulent bankruptcies. Bank accounts were opened at Wells Fargo for "phantom people."
Breger said city government officials and agencies in Mesa are complicit.
"The City of Mesa is a racketeering organization," she declared, where "civil rights are systematically and systemically violated to preserve racketeering activities." She explained that "fines and outrageous cash bonds are used to collect and skim money," which is then "redirected into racketeering activities."
She implicated the Mesa Police Department in the scheme, saying that officers participating are compensated with "monies paid through the phony mortgage schemes." She said the police violate the Fourth Amendment by planting evidence, hiding exculpatory evidence, and entering homes without search warrants.
She discussed what she found at the state level next.
"Multiple state databases have been infiltrated or hacked, thus allowing falsified documents to be uploaded into them, and allowing legitimate documents to be removed." Breger said all three state universities' computer systems have been hacked, with degrees forged for individuals who never graduated. Additionally, she claimed state licensing agencies were hacked, forging licenses for people.
"Even law licenses; we have seen phantom attorneys registered with the state bar," she said.
Turning to Maricopa County, Breger said the Maricopa County database for the Maricopa County Recorder and the Maricopa County Superior Court was designed in 2014 to be infiltrated. Since then, "hundreds of falsified documents have been loaded into the court database," such as default judgments and child support orders. She said they were used in swatting activities against individuals posing a threat to the racketeering activities.
Regarding elections, Breger said, "Since 2004, elections with Pima County and Maricopa County have been manipulated through the infiltration of the county databases, resulting from bribes paid to officials and election service providers, including, but not limited to, principals of Runbeck Election Services." She said this affected the 2020 recorder's race and the races for governor, attorney general, and secretary of state in 2022.
She said those bribed include county supervisors, judges — including two presiding judges — judicial assistants, prosecutors, and state legislators. She singled out prosecutors "within and for Maricopa County." Breger said she believes at least 25 percent of the judges within Maricopa, Pima, and Pinal Counties have accepted bribes for protecting the racketeering activities. She said the payments began before the individuals were appointed to the bench and asserted that Mesa prosecutors routinely bring charges against innocent individuals who pose a threat.
She said laundered cash is used to bribe Arizona public officials and their staff. Over 10,000 fraudulent documents were recorded with the Maricopa County Recorder's Office; Breger alleged and estimated that over 35,000 warranty and trust deeds evidencing fraud exist in the database. Accompanying those were over 15,000 falsified notarizations, she added.
Breger alleged that the key participants in the racketeering are Adona Ray Chavez and her adopted daughter Brittany Ray Chavez, who facilitate the bribes of public officials. She said they are connected to the corrupt real estate agents and have worked for the Sinaloa Cartel for over 25 years. The pair allegedly execute deeds under falsified names, including as the buyer, seller, or notary, and forge the signatures of judges.
Breger said she discovered at least five appointments made under Adrian Fontes while he was the Maricopa County Recorder between 2017 and 2021 who were "phantoms, non-existent individuals," holding positions related to election services. During the same period, she said there were at least 15 individuals whose records were falsified "and kept hidden from the public during the 2020 election cycle." Their records reportedly include forged signatures and falsified notarizations made by Brittany Chavez, and falsified clerical signatures by Donna Chavez.
In 2019, Breger said Brittany Chavez approached her law firm asking for whistleblower protection. After being threatened, she withdrew her request but continued providing evidence to the firm, Breger said. In October 2020, Breger said the firm received evidence that the Maricopa County computer system had been designed with various back doorways to allow outsiders to infiltrate it and change the data. She said they were also told the identities of public officials who had been bribed and discovered 25,000 falsified ballots held with a large amount of cash at a home in Mesa, traced to Donna Chavez.
Breger researched the deeds of trust of officials suspected of being involved in racketeering. If there was an unusual number of deeds of trust belonging to one individual, they dug further. She looked into Hobbs' recorded documents and found 11 deeds of trust. She showed them to a qualified forensic document expert, who examined them to determine whether the handwriting matched Brittany Chavez's or Donna Chavez's handwriting. The expert determined that the writing appeared to be trying to copy Hobbs' and her husband's signatures.
Breger said many deeds of trust for one couple within a few years was "not statistically likely." Of those, six were recorded within a five-year period when Hobbs was with Emerge Arizona. She said she believes Emerge Arizona, which helps Democrat women run for office, bribes women to run for public office and further the cartel's interests.
Breger produced copies of Hobbs' deeds for the legislators to look at, and said she has 500 pages of reports on officials like this. She said in their research they found that some of the title and mortgage companies don't exist.
Breger said she believes election fraud goes back to 2004. "Since at least 2004, ballot counts have been tampered with."
She said Brittany Chavez moves money for candidates, in part through nonprofits. In October 2020, she said they discovered over 100,000 ballots and $13 million in two unmarked rental cars being unloaded at a home in Mesa and then driven to Runbeck. Breger said they found suspicious deeds for Runbeck and its President and CEO Jeff Ellington. They also found suspicious deeds for Fontes, she said. Breger said three of the five Maricopa County Supervisors have suspicious deeds recorded, along with partners at the large Democratic law firm Perkins Coie.
Thaler has survived six attempts to kill him, she said, including a tire strategically slashed so it would "cause catastrophic failure at a high speed." She said a similar attempt was made on the life of Kari Lake's daughter. Read more related to Thaler's investigation here.
** End **