Original article. Fox News keeps sinking lower and lower (see "Top Star" article.) Why not present the evidence like REAL News Networks and let the viewers decide if it is accurate.
---
By Anthony Scott, May. 9, 2023 4:21 pm, 1131 Comments
In a surprise video uploaded to Twitter on Tuesday, former Fox News host Tucker Carlson announced he will be doing his new show on Twitter.
Tucker accused Fox News of fraud and breach of contract, according to Axios.
Tucker Carlson, two weeks after being ousted by Fox News, accused the network Tuesday of fraud and breach of contract — and made a host of document demands that could precede legal action.

The aggressive letter from his lawyers to Fox positions Carlson to argue that the noncompete provision in his contract is no longer valid — freeing him to launch his own competing show or media enterprise.

On Tuesday, Carlson announced he would be bringing his show to Twitter,.
"Starting soon we'll be bringing a new version of the show we've been doing for the last six and a half years to Twitter," he said in the video. "We bring some other things too, which we'll tell you about. But for now we're just grateful to be here. Free speech is the main right that you have. Without it, you have no others."
The intrigue: The Twitter move would seem to technically violate Carlson's contract with Fox, but his lawyers' letter effectively holds that Fox breached the contract first.

Sources told Axios that Carlson's lawyers sent their letter before he took to Twitter to announce his new show.
Tucker in the video stated "starting soon we will be bringing a new version of the show we've been doing for the last six years and a half years to Twitter."
Besides announcing his return Tucker stated "at the most basic level the news you consume is a lie. A lie of the stealthiest and most insidious kind."
Tucker would go on to say Twitter is the last remaining place in the world where free speech is allowed.
WATCH:
Tucker also noted in his announcement that the "gatekeepers are still in charge" of the corporate media and he's sick of it which is why he will be taking his show to Twitter.
The news by Tucker shocked some but other saw his decision coming.
Previously Axios reported both Musk and Carlson had a conversation about working together.
As of now it's not clear if he will host his show exclusively on Twitter or if he will have a partnership with another news network or platform such as Rumble too.
** End **
---
Megyn Kelly Reveals Nasty Details About Her Departure From FOX News While Defending Tucker: 'These Guys Are Bullies!' (VIDEO)
---
By Mike LaChance, May. 10, 2023 8:30 am, 6 Comments
During a recent episode of her podcast, Megyn Kelly delivered a passionate defense of Tucker Carlson, and in the process, revealed some nasty details about her own departure from FOX News.
Kelly has been one of Tucker's biggest defenders through all of this, and she deserves credit for it.
The thing to remember here, is that Megyn Kelly's decision to leave the FOX News Channel was her own. She was at the top of her career and decided to do something different. She was allowed to have a last show, and say goodbye to her fans. Even so, according to her, things got nasty.
In the video below, she claims that the only reason she is allowed to talk about these things is because she refused to sign a non-disclosure agreement.
She says that she was strongly pressured to sign the agreement and even ended up losing pay for her decision. She also claims that the network offered to fire Irena Briganti if she would stay. Briganti is the FNC executive accused of being a hatchet-woman for top people at the network.
The video begins with Megyn giving advice to Tucker, which is moot now that Tucker has announced that he is going to continue his show on Twitter.
Then she gets into the latest bad ratings for the FOX News prime time line-up, and talks about how FOX News is trying to silence Tucker ahead of the 2024 election. She points out that Tucker doesn't even need the money, he just wants to speak to the people, his audience.
Finally, she gets into her departure from FOX and what really happened. There's a lot of inside baseball here for anyone who is interested in the Tucker story and the inner workings of news media in general.
The whole video is worth watching, but if you just want to hear Megyn talking about her negative experience leaving FOX News, skip to the 7:30 mark:
Tucker's new venture will do extremely well.
FOX News made a huge mistake. Many of their fans feel betrayed by the network's treatment of Tucker and who can blame them?
** End **
---
A top star at Fox News just showed how firing Tucker Carlson led to this huge change
Original article. I think most people would call this lying. This is more evidence that Fox News has made a conscious decision to join the group of Fake News deceivers.
---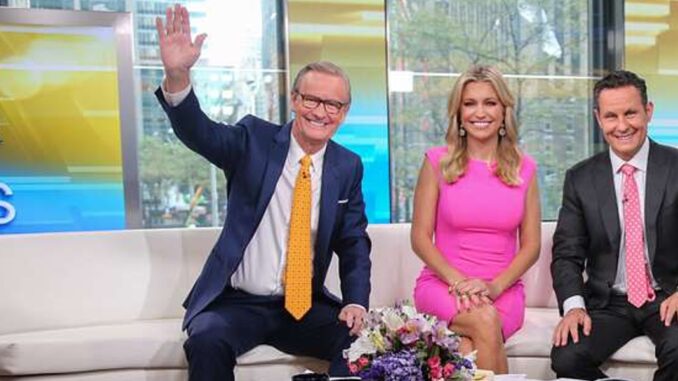 Fox News is still in turmoil after firing Tucker Carlson.
Ratings are down and the network is trying to pivot.
And a top star at Fox News just showed how firing Tucker Carlson led to this huge change.
The latest evidence that Fox News is moving to the middle came during the May 11 broadcast of Fox & Friends.
House Oversight Committee Chairman James Comer appeared to discuss his bombshell findings of bank records showing the Biden family concealed $10 million in payments from companies in Romania and Communist China.
But Fox & Friends co-host Steve Doocy was not impressed.
Doocy claimed Comer presented no facts and that there was still no evidence of Joe Biden's wrongdoing.
"I know the Republicans said that the smoking gun were these financial records that you were able to subpoena and got your hands on," Doocy stated. "They show that some of the President's relatives were paid more than $10 million from foreign sources between 2015 and 2017. And your party, the Republican investigators, say that that's proof of influence peddling by Hunter and James. But that's just your suggestion. You don't actually have any facts to that point. You have got some circumstantial evidence. And the other thing is of all those names, the one person who didn't profit is . . . there's no evidence that Joe Biden did anything illegally."
Doocy clearly ignored what Comer presented.
Comer detailed how millions of dollars began flowing into Biden family LLCs from a company in Romania – whose founder hired Hunter Biden – shortly after the Romanian President visited the White House where Joe Biden greeted him.
The Oversight Committee Chairman added that the Bidens set up a complex web of LLCs and bank accounts so piecing together the elements of this scheme would take time.
However, Comer noted the committee gathered more witness testimony and evidence each day.
"We know the complexity of the way the Bidens set these shell companies up were made to try to disguise, not only the money they were receiving, but also Joe's involvement," Comer explained. "We're at the very beginning stages of this but in talking with the informants that we have, some of the Biden associates that nobody's heard from yet, we know that Joe Biden was actively involved and we're still looking for more bank records that we believe will implicate Joe Biden's active participation in this at the end of the day."
Media outlets like CNN are moving the goalposts to the point that they claim Joe Biden is exonerated unless Republicans produce video evidence of Joe Biden accepting a check and admitting on camera that he will do the person paying him a favor.
Fox News viewers are not used to hosts echoing the pro-Democrat Party talking points seen on left-wing outlets like CNN.
And many fear this is part of a shift towards a more establishment-friendly point of view at Fox News now that Tucker Carlson is gone.
Renewed Right will keep you up-to-date on any new developments in this ongoing.
** End **